Here we are on this historic day, 51 years after Malaysia gained independence. As you are reading this post right now, very high chances that the parade is going on down the streets of Kuala Lumpur!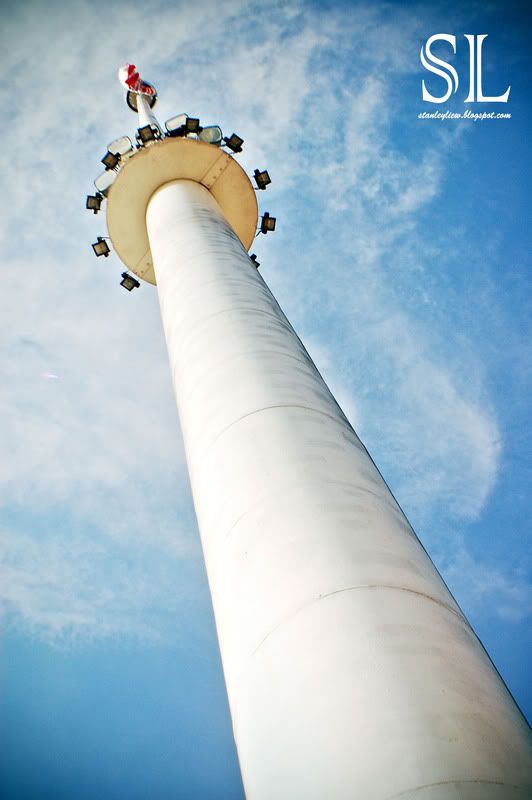 This is the flagpole at Dataran Merdeka. Its HUGE. It might not look that big in this picture because there's nothing to compare it with but trust me, its big.
Remember yesterday's palm trees? Here's a closer shot at one of them.
Its a little abstract but this is the wood frame for the benches at Dataran Merdeka under construction. Its right next to the road I'll assume that these are VIP seats or used for performing purposes.
It does bring back some childhood memory. My family would normally wake up as early as 6 to watch the annual parade.
THIS is Dataran Merdeka. The direct translation is Freedom Square. Thats the flagpole at the end there. Its hard to believe that so much has happened on this field in the past 51 years.
Take a good look at the grass. Its HISTORICAL grass!!!
This feature has finally come to an end. I hope that you guys have got a nice glimpse of Malaysia, hopefully enough for to tempt you to pay it a visit =)
I tell you....there is SO much more to Malaysia. These 8 days alone are not enough to actually summarize what Malaysia is all about. Perhaps next time I would like to do a feature concentrating more on people! It might be slightly hard though.
During my trip I did realize that Malaysians are AFRAID to be photographed. Perhaps its just the inner celebrity in everyone who wants to feel what it is like to evade paparazzi.
To be honest Malaysia has a lot to improve but on the other hand Malaysia has come a long way. Personally I think the recent political stress on Malaysia actually showed how much we Malaysians love our country. People are voicing out their opinions for the good of the country.
I love Malaysia =)