We made our way to
Uluwatu Temple
right after we landed, so I was pretty psyched up! Wohoo! I just landed at Bali (Oops! Lawl, major typo error here. Typed Bangkok, LOL! Thanks Jenn for the heads up xP) and we're already going somewhere. It took us about 45 minutes to reach the temple.
This is the grand entrance to the temple. Funny thing I noticed about Bali is that the main entrances from the road are not grand at all. In fact it was just a small left turn by the road and *bam!* you're at Uluwatu Temple.
I think that its nice that they do not have glaring neon signs that say "Welcome to Uluwatu Temple". Takes away all the authenticity. There are also no highways in Bali. Driving in Bali is like driving back to your kampung-one lane ROADS and such.
The sun was about to set. The visit is timed in a way that we would still have time to rush to the beach for sunset dinner afterwards.
Japanese tourists are everywhere! Here is where we are served 'pisang goreng' (banana fritters). Hmm...must be really precious because all we got was 1 piece each! LOL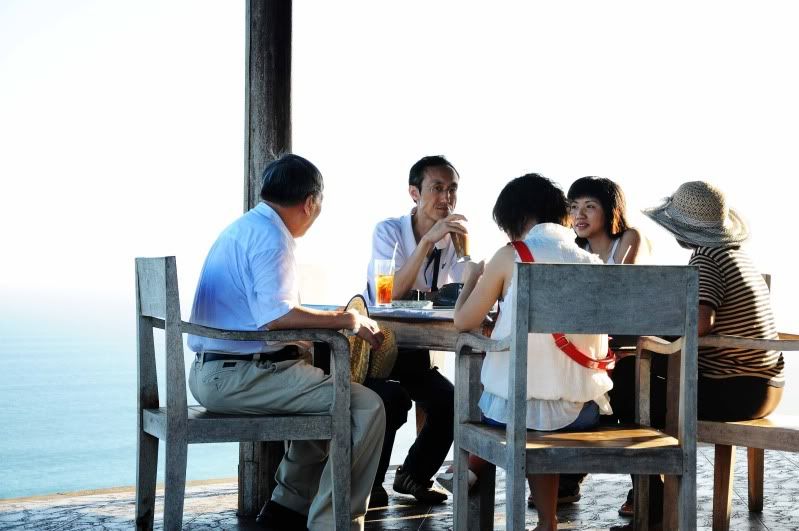 These people were eating exactly 1.5 metres from the cliff edge. One wrong step and *whoosh* goodbye my friend.
View of the garden. This is one of the wedding hotspots. Looks perfect huh =D Invite me if you ever happen to have your wedding there!
Peeing Statues (self-named) next to the swimming pool. Yes! There is a swimming pool directly next to the restaurant. Looks great but no privacy. Its hard to de-stress I guess, with 40-50 people looking at you while eating their pisang goreng.
Nice refreshing Coke by the pool. Those are Ovira's crocs by the way.
And finally the view from the edge of the cliff. Sun was at the perfect angle to give some flare. I would love to stay there, sit, and enjoy the view as long as can, but the sunset dinner awaits! So, I had to reduce a little 'gazing' time.
.
.
.
.
.
.
.
.
.
.
.
.
.
.
.
.
.
.
.